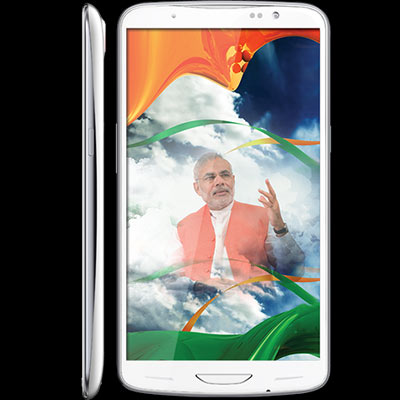 NAMO...stands for Narendra Modi and Next Generation Android Mobile Odyssey.
Manufactures told that they the the true fan of Gujarat CM and BJP's PM Candidate Shri Narendra Modi.
Company has announced that 2 smart phones, namely Smart NAMO Safron 2, Saffron 1 will be available.
Saffron 2 is priced at Rs 24,000, Saffron 1 smartphone will come in 2 variants priced at Rs 23,000 and Rs 18,000.
Also as per information from market we came to know that phone will have videos as well as application related to Shri Narendra Modi.
Below are the key features of this new smart phone.
5-inch capacitive display with a resolution of 1920x1080 pixels.
Android 4.2.1 Jelly Bean.
1.5Ghz quad-core processor with 2GB RAM.
Pre-loaded apps and content related to BJP and Narendra Modi.
The two SIM slots and the microSD card slot are located right next to the battery compartment.
The Micro-USB port and the microphone are at the bottom of the phone.
The 3.5mm headset jack sits at the top of the phone.
The phone comes with 3150mAh Battery.
CLICK HERE TO CHECK FOR MORE DETAILS