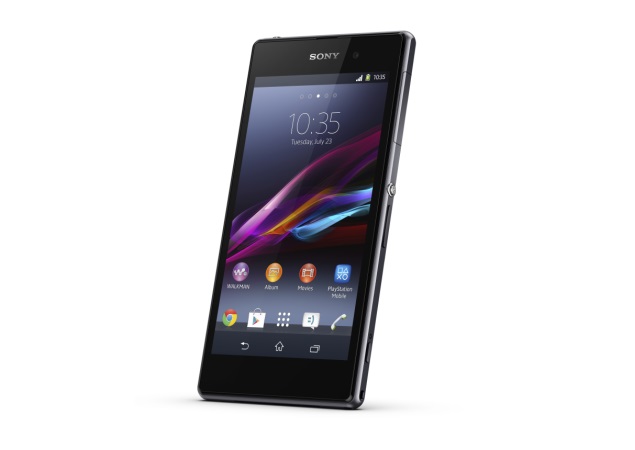 Sony launched its new Xperia Z1. The new Xperia Z1 bears a striking resemblance to the Z, but it's a little larger and thicker than the Xperia Z. The entire front and back is all glass with a single piece aluminium shell for company.
Key Features
2.2 GHz Qualcomm Snapdragon 800 Quad Core Processor
Full HD Recording
20.7 MP Primary Camera
Expandable Storage Capacity of 64 GB
2 MP Secondary Camera
5-inch TFT Capacitive Touchscreen
Android v4.2 (Jelly Bean) OS
Wi-Fi Enabled
A premium smartphone that makes use of Sony's expertise in technology, the Xperia Z1 is a device you will not let slip easily. Powerful yet beautiful, smart yet subtle, the Z1 moulds the way you work and live with more efficiency and effectiveness.
Camera - Clicking Life
Striking a chord with the photography enthusiast in you, the Xperia Z1 becomes a compact digital camera in your pocket with its 20.7 megapixel primary camera and a 2 megapixel secondary camera, carving expertise off Sony's world class cameras.
With a Superior Auto setting that lets you take great pictures without having to fiddle with the settings, the phone presents a platter of memories which are almost as real as life itself. Full HD recording capabilities with SteadyShot to keep it stable make the Xperia Z1 an intelligent companion for outdoor shoots.
Click even underwater pictures with the Xperia Z1 that is waterproof - water damage is a thing of the past.
Reality Redefined
A big 5 inch TFT capacitive touchscreen which is full HD with Triluminos technology makes everything come alive on your Xperia Z1 screen, making your eyes drink in the beauty of reality as it is.
Processor that Prevails
The Sony Xperia Z1 secretes a 2.2 GHz Qualcomm Snapdragon Quad Core Processor that ensures that you can multitask seamlessly and open as many apps without any lag or hang. The phone runs on the Android v4.2 (Jelly Bean) operating system that is both smooth and intuitive with great little tweaks like bundled notifications.
The Xperia Z1 also supports breathtaking graphics for your favorite games with 3D graphics - multiplayer support is the cream on the cake taking gamers to instant paradise.
One Touch Experience
With NFC support, the smartphone can be connected to a large screen or your music system without the hassle of tangled cables to experience everything on a larger scale.
Video of New Z1
http://www.youtube.com/watch?feature=player_embedded&v=blUhgOJXetM
Other Sony Products Price *
Sony Xperia E, Price: Rs.7665
Sony Xperia E Dual, Price: Rs.8392
Sony Xperia Go, Price: Rs.13490
Sony Xperia J, Price: Rs.15490
Sony Xperia L, Price: Rs.16555
Sony Xperia Neo L, Price: Rs.13200
Sony Xperia P, Price: Rs.20039
Sony Xperia SP, Price: Rs.20841
Sony Xperia Tipo, Price: Rs.8490
Sony Xperia Tipo Dual, Price: Rs.7820
Sony Xperia U, Price: Rs.12139
Sony Xperia Z, Price: Rs.32990
Sony Xperia Z Ultra, Price: Rs.39782
Sony Xperia ZL, Price: Rs.29890
Sony Xperia ZR, Price: Rs.26798
* Tentative prices as on 23rd Sep 2013
CLICK HERE TO CHECK BEST PRICE OF XPERIA Z1