The new iPad Air is unbelievably thin and light. And yet it's so much more powerful and capable. With the A7 chip, advanced wireless, and great apps for productivity and creativity — all beautifully integrated with iOS 7 — iPad Air lets you do more than you ever imagined. In more places than you ever imagined.
As reports New iPad Air is reportedly 5 times more popular then its earlier 4th generation iPad launched last year.
iPad Air is impossibly thin but incredibly solid thanks to its aluminium unibody design. It dropped almost a quarter of the volume of the previous-generation iPad. So it weighs just 469 grams. But what makes iPad Air truly remarkable is that it packs so much more power and capability into its sleek frame. So you can do even more with it, while carrying even less with you.
Few Key Features
Retina Display
iPad has always been about the display. And that's even more true with iPad Air. Because we reduced the width of the device, along with the bezels on the sides of the display. But the size of the stunning Retina display is exactly the same. So your content fills your view more than ever. With a 2048x1536 resolution and over 3.1 million pixels, photos and videos shine with detail and text looks razor sharp. Pixels are indiscernible. So all you see is what you want to see.
The A7 Chip
The A7 chip takes iPad to new heights of power and speed. Thanks to the A7 chip, apps run faster. Games are more responsive. And everything you do with iPad Air feels quicker, because it is quicker. Up to twice as quick, in fact. But that's just the start. It also supports OpenGL ES version 3.0, enabling detailed graphics and visual effects once possible only on desktop computers and games consoles. And the A7 chip features 64-bit architecture, opening the door for even more robust and powerful apps. Which means even more possibilities for what you can do with iPad Air.
M7 Coprocessor
iPad Air was designed to be on the move. That's why the M7 coprocessor makes so much sense. It measures motion from your iPad Air by pulling data from the accelerometer, gyroscope and compass. So your apps can give you a better experience based on the movement of your iPad Air. It's a task that would normally fall to the A7 chip. But M7 is more efficient at it, which saves on power.
Same Great Battery Life
iPad Air is powerful, but not power hungry. Even though it's 20 per cent thinner and up to twice as fast as the previous-generation iPad, it still gives you the same incredible 10-hour battery life.1 That's because the A7 chip isn't just more powerful, it's also more efficient. So no matter where you go with iPad Air, you'll have the battery power to go even further.
Ultra Fast Wi-Fi
iPad Air gives you up to twice the Wi‑Fi performance thanks to two antennas and MIMO (multiple-input multiple-output) technology. With dual-band (2.4GHz and 5GHz) 802.11n Wi‑Fi and MIMO, download speeds can reach up to 300 Mbps — double the data rate of the previous-generation iPad. So now when you want to download a film, share photos or documents with AirDrop, or just browse the web, your connection is even faster than before.
More Networks
iPad Air with Wi‑Fi + Cellular lets you connect to the Internet even if you're away from a Wi‑Fi signal. iPad Air supports even more bands to connect to more mobile data networks around the world.2 Now you can get online at really fast speeds — faster than broadband in some cases — in more places. And data plans are flexible, so you don't have to sign a contract.
Great Apps Included
iPad Air is the perfect everyday companion. Because it comes with apps that help you do the everyday things you love to do, like check your email or talk to Mum over FaceTime. And now iPhoto, iMovie, GarageBand, Pages, Numbers and Keynote are free with iPad Air.3 So you can write the next great novel, nail your presentation and compose a score for your home movie — all from your iPad Air. And all these apps are optimised for 64-bit architecture. So they run smoothly and powerfully, and make iPad Air — and you — more capable than ever. From the moment you turn it on.
Specifications
Display Retina display 9.7-inch (diagonal) LED-backlit Multi-Touch display with IPS technology 2048-by-1536 resolution at 264 pixels per inch (ppi) with Fingerprint-resistant oleophobic coating
A7 Chip With 64-Bit Architecture And M7 Motion Coprocessor
OS iOS7 with AirDrop, AirPlay, AirPrint, Control Center, Notification Center, Siri, Spotlight Search, iTunes Radio, iCloud
5MP rear iSight camera with 1080p HD video
1.2MP front-facing HD camera
Built-in 32.4-watt-hour rechargeable lithium-polymer battery
Up to 10 hours of surfing the web on Wi-Fi, watching video, or listening to music
Up to 9 hours of surfing the web using cellular data network(Wi-Fi + Cellular)
Height:9.4 inches (240 mm)
Width:6.6 inches (169.5 mm)
Depth:0.29 inch (7.5 mm)
Weight:1 pound (469 g)(Wi-Fi)
1.05 pounds (478 g)(Wi-Fi + Cellular)
Airplay, Airview and Air Drop
Sensor Three-axis gyro, Accelerometer, Ambient light sensor
16GB $499, 32GB $599, 64GB $699, 128GB $799(WiFi Model)
16GB $629, 32GB $729, 64GB $829, 128GB $929(Wi-Fi + Cellular)
Release date 1st Nov. 2013
Price starts $499
Comparison with Microsoft Surface 2, Nokia Lumia 2520 and Samsung Galaxy Note 10.1.2013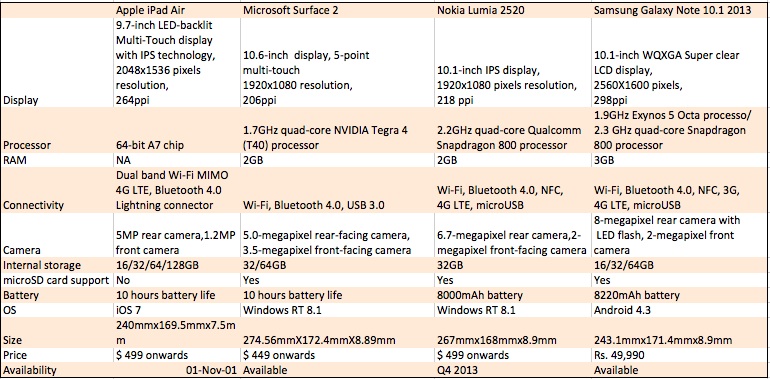 CLICK HERE TO CHECK MORE ON OFFICIAL WEBSITE